"Individually, we are one drop. Together, we are an ocean." – Ryunosuke Satoro!
Partners Club is the participatory sustainable financing platform with proven business and investment program that improves networking and leadership skills of individuals to advance the global goals.
The hallmark of our success is revealed in the rich, exciting and rewarding opportunity to become an agent of global change around; entrepreneurship, energy poverty, food security, climate change, girl education and inequality. The partners crowd-sale is a new phenomenon enabled for informed social, environmental and impact investors to have access to quality digital assets with promise of healthy returns.
Until now, only wealthy and accredited people were allowed to invest or buy shares in private companies; the Partners Club is changing that by granting you first, its membership then you can gain access to the new asset class and purchase tokens in projects and startups you care about. Purchasing tokens on our listed blocks with potential monetary returns is just the first step; you will be holding the equivalent of your purchase in tokens share of your choice project until the company go for an initial public offering (IPO). Your worthy bet on these projects qualify you for a stake in their future new valuation.
The most exciting part of your membership as partner is the reward of becoming the angel, ambassador or customer to your respective company as they grow, expand and become truly successful enterprise. Members connect through our events, summits and global tours where new relationships, collaboration and learnings takes place. Welcome to the Partners Exclusive Club!
The solutions we support
Join us to decarbonize household energy and make access free for a billion people in the emerging economy.
OneWattSolar (OWS)
OneWattSolar leverages Mobile technology to deliver Tokenized Digital 24/7 Electricity at 10 Cent/KWh to eligible users via a Backed BlockChain FinTech platform.
OWS is a digital technology platform for the decentralized renewable energy market sector in Africa, It removes the barriers to energy access and increases financial inclusion, removes high upfront costs, reduces technology risk, lowers transaction costs and increases transparency across the new energy ecosystem.
OneWattSolar aims to grow its customer base to over 10million energy users in five (5) years leveraging on strategic partnership sustainable energy providers and utilities across Nigeria and Africa.
Learn more: https://onewattsolar.com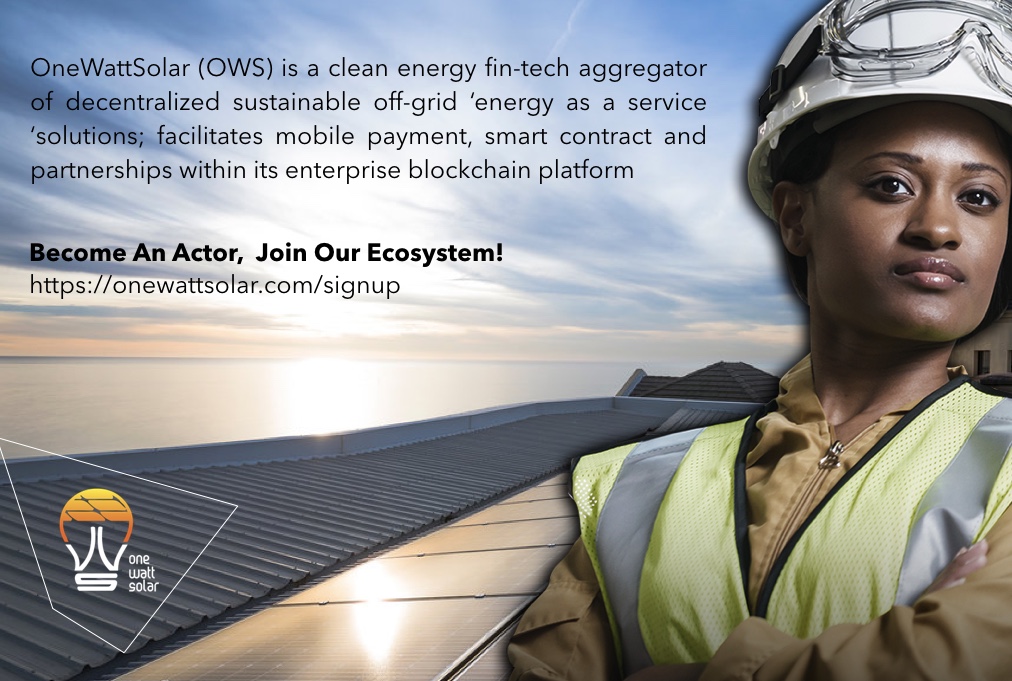 ---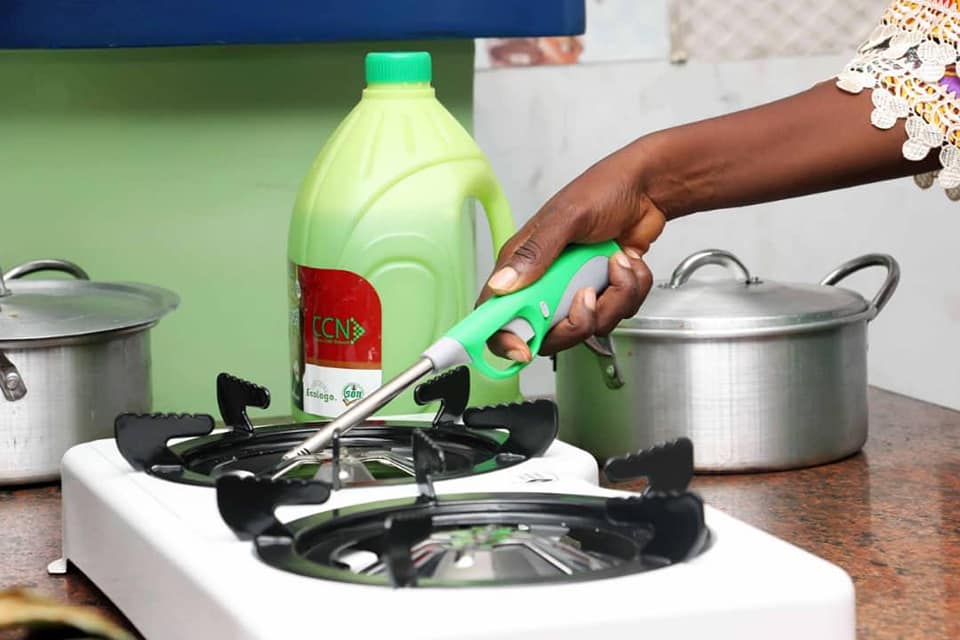 Green Energy & Biofuels (GEB)
Green Energy & Biofuels (GEB) provide low-cost, clean, and safe energy for households by launching one of fastest growing clean cooking and transport fuel in Africa.
Created Ethanol Gel Cooking Fuel made from bio-based waste products and sell it below the cost of kerosene, along with our one and two burner stove called Kike Cookstoves. GEB's proprietary technology makes it economically feasible to convert biomass into cellulosic ethanol and we use Water Hyacinth and Waste Sawdust as our main sources of feedstock which are both abundant in West Africa.
The business also creates livelihood for women, protect health and environment. Green Energy & Biofuels Refinery has displaced harmful kerosene with more than 13,700,000 liters of Bio-fuel cooking gel equivalent.
Green Energy & Biofuels has sequestrated over 6,000m tonnes of Carbon Dioxide Emission, empowered over 27,000 women entrepreneurs, 28 distribution centers, created 1,054 direct jobs and some 45,000 indirect jobs.
Learn more: https://gebiofuels.com
More about our social enterprises
Learn more about how our social enterprises innovate and support growth in high impact areas in the emerging economies.
Meet Our super Heros
Curated by SMEFUNDS, the partners club project was built and inspired by a network and group of talented people
from the startup, venture capital, experts, professionals and technology ecosystem.
The Partners Building Blocks
We Connect, We Care, We Collaborate.
We Connect
None of us ever do great things. But we can all do small things, with great love, and together we can do something wonderful
We Care
Great things in business are never done by one person; they're done by a team of people.
If you want to lift yourself up, lift up someone else
We Collaborate
Alone we can do so little; together we can do so much.


Benefits of the Partners Membership
The Partners exclusive club provide members opportunity to learn while they earn; owning a digital asset is only the first step; members connect to share ideas. learn and build healthy nourishing relationships.
The supper successful class understand how to use leverage system to achieve higher returns; your membership will offer your much more.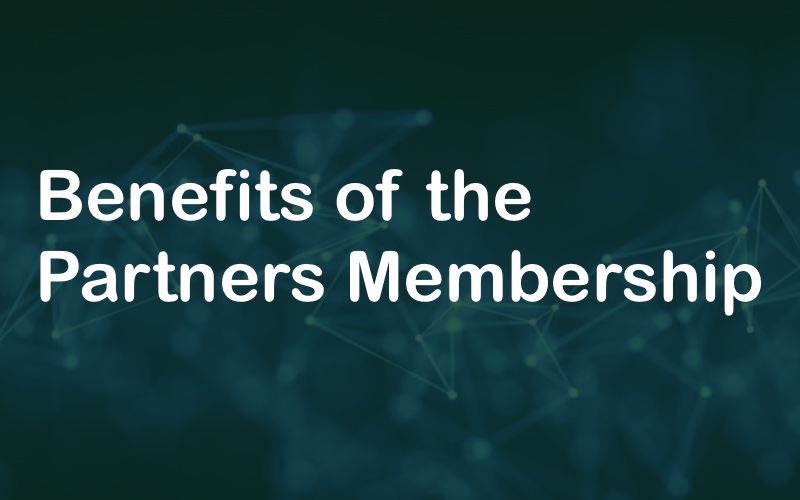 No membership fees
Access to exclusive information, people and deals
Networking and educational program that differentiate you from competitors
Opportunity to founders' shares in high impact companies in the clean tech industry
Elevated membership recognition and awards
Opportunity to secure a plan-B multiple stream of income portfolio
Access to low risk and risk share deals only available to member
Access to exclusive fractional ownership of tech-backed renewable energy companies
Perks, bonuses and incentives for members
See How It Work
We are building the future that works for everyone. The Partners Club give you the opportunity to invest in qualified assets and collaborate with other like minded individuals across the world.
Freedom
Select a Block you desire to be part of. Take a moment to read and review the information provided with the listed block; You are absolutely free to consult and be sure to understand the terms of the token listed while you decide to support the project you love.
Purchase/Buy
Start with a minimum of 25 tokens or more. It makes one feel great to know that we can make a positive change in the lives of people, Choose from the array list of available partners blocks to make a purchase.
Connect
The hallmark of the partners Club is the opportunity for members to connect, learn and share, wherever your home across the world, you too can connect to raise awareness about your social enterprise and the work they do; you also get to collaborate with other members while advancing the United Nations SDGs agenda.